Ukraine VA Meeting 2018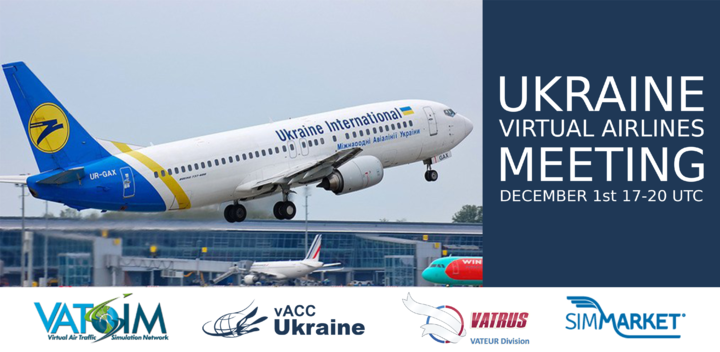 Dear pilots! vACC Ukraine invites you to take a part in the first meeting of Ukraine virtual airlines. Zaporizhzhia (UKDE), Odessa (UKOO) and the main air gate of Ukraine - Boryspil (UKBB) will work for you.
Also, practical exam will be held in Boryspil for STU3 rating at the Kyiv Radar (UKBV_APP) position.
The best pilot will receive a gift from Simmarket.
We are waiting for everyone!
Criteria for pilot's evaluation:
• Politeness (do not intercept the communications).
• Correct execution of ATC instructions.
• Correct phraseology and procedures.
• The presence of the AP scenery.
Scenerys:
UKBB:
FS2004 - http://bit.ly/2Fj3DPA
FSX - http://bit.ly/2OCZRzR
P3D - http://bit.ly/2DE6alI
XPL - http://bit.ly/2JWyZdz
UKDE:
FS2004 - https://bit.ly/2PAI2qy
FSX - https://bit.ly/2PEIN1K
P3D - https://bit.ly/2S0BMoy
UKOO:
FS2004 - https://bit.ly/2BgF8P1
FSX - https://bit.ly/2QaKALm
P3D - https://bit.ly/2S7F3mr
XPL - https://bit.ly/2S0wnxR
---